I'll be brief (for once) and rely mostly on pictures for this flashback. We try every year to visit the pumpkin patch to pick out our big Jack-o-Lantern pumpkin, check out the farm animals, and (most importantly) take pictures among the fall-esque landscape. I don't know how much the kids care about it, but I look forward to it every fall and also every spring (when we go pick strawberries and enjoy homemade strawberry ice cream!).
Last Saturday, the high temperature was barely 50 (which is cold to a Georgian), and it was misty and windy. Needless to say, we just kind of grabbed our pumpkins & zinnias and skee-daddled. But *I* loved it.
Wait. That's not a pumpkin.

So, I dug up last year's photos. If memory serves me correctly, it was hot and sticky. I mean, who wears shorts to pick pumpkins? Apparently, we do.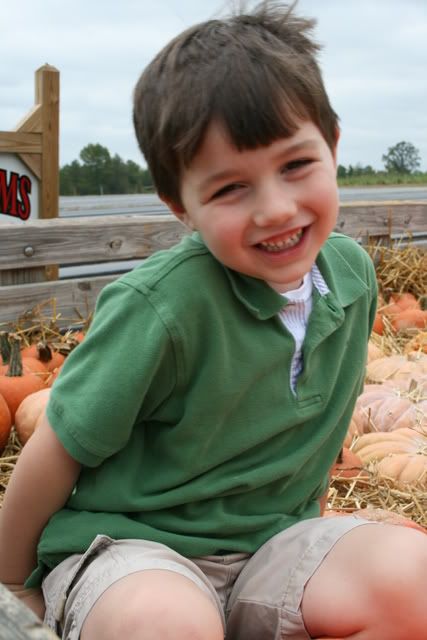 We'll go back one more year still. This puts Abby at just over one year old. Ben at just barely four. We should have known from this picture what was yet to come from our devious Abby.

Good times and great memories at the pumpkin patch. I totally heart family traditions.

In closing, our newest pumpkin says "Happy Fall"!!!!