It probably goes without saying that yesterday was my baby's first birthday (because I've said about approximately 1,293,948 times already).
What better way to celebrate that than with a fun series of flashback photos? There simply isn't a better way. Don't even bother wasting time considering it.
On May 13, 2009 at 6:03pm, we welcomed our newest baby girl. She weighed 8 pounds exactly.
Now she's a healthy little girl with smiles aplenty and an insatiable appetite.
On October 2, 2006 we welcomed our first baby girl to the family. She was born at 1:42 pm and weighed 8 pounds 8 ounces.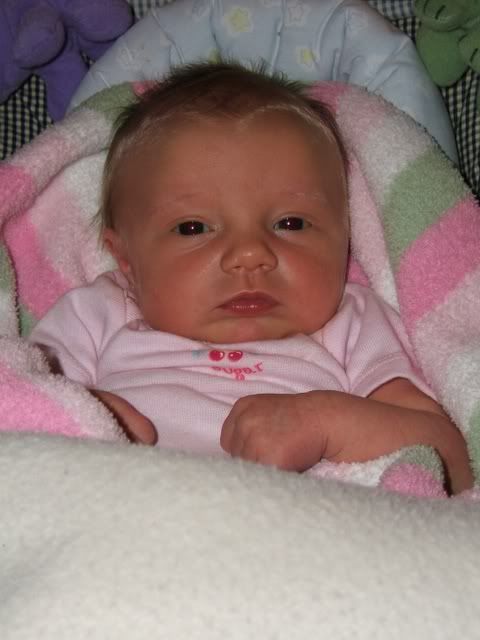 By one, we already knew we were in for an exciting ride. She had boundless energy and a grin that could win anyone's heart.
On September 5, 2003 at 10:55am, our lives as parents began when we welcomed our firstborn to our world. He weighed in at a hearty 8 pounds 13.7 ounces.
By one year, he was already such a little man. We didn't realize that not all one year old's are capable of or interested in helping around the house, but we sure capitalized on it.
We celebrated their first birthdays in different ways, but the one common denominator between the three was the presence of the beloved one year old smash cake.
Ben was not a fan. (Would you call that a grimace?)
Not surprisingly, Abby was all over it.
And in an unexpected twist of events, Sarah didn't dig it at all.
This concludes today's edition of Compare/Contrast Jennie's Kids. I assure you there will be many, many more in the future. In fact, I'm already contemplating the creation of a graph for my next one. (And if the promise of a graph doesn't drive my readers away, I'm not sure what will.)
Happy Friday, everyone! Eat some cake in Sarah's honor! (And on my behalf.)