Birthday season is coming to a close soon in our house, and shortly after that comes Halloween. One of the weeks in between, however, is reserved for the Georgia National Fair, which has become an annual tradition for our little thrill-seekers.
If any of you watch the weather channel, you may have heard that we've gotten "a little bit" of rain here in Georgia in the past week or so. It's somewhat localized. My poor in-laws have gotten almost nothing and we're flooding. Go figure. Anyway, that seems to be how it goes with rainfall in Georgia. It also seems to go that you'll have had NO rain at all...until the Georgia National Fair is in full force.
This was the case for us last year. We had just enough time to eat a hot dog and buy our wristbands before the heavens opened and the deluge poured down on us. I would say it was a record, but there are some serious rainfalls down here. I'm just usually not standing outside in the middle of them. We waited it out for almost an hour, and we finally got weary enough of waiting that we were going to make a run for the car. But! Not before we crafted some rain gear for the children on the not only wet, but unseasonably cool day.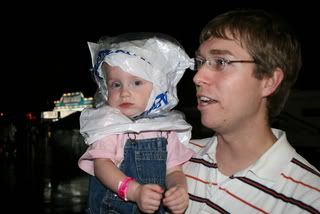 You might think that we got some strange looks. You'd be wrong. The only looks we got were those of envy. (Okay, not really. I'm sure more than one person criticized our parenting skills for wrapping our kids' head in plastic bags.) At any rate, we made it home and life went on. And if my memory serves me correctly, they didn't get a cold after this! That was the fear that prompted crafting the raingear for our snotty-nose prone children. Parenting success! Kind of. Or we could have brought an umbrella.
And to think, all I wanted was a funnel cake.