You have survived any number of near death experiences that come with changing the sheet on a top bunk.
At any point, your three year old has streaked completely naked across your front yard. And you're certain that your reaction to her running naked across the neighborhood (which involved flailing of limbs and shrieking of "ABBY!!! Come here RIGHT NOW!") drew way more attention than her tiny, lighting fast hiney did in the first place.
You laughed right out loud when, upon seeing this picture...
...your child confidently proclaimed, "I know what this is. It's a yam!"
You've accepted partial responsibility for having to change peed-on sheets in the middle of the night because you did forget to make that final "make sure you go potty" reminder.
You love that your youngest child's first word was "more", as in "more food" because that's just one of many bits of indisputable proof that she is, indeed, your daughter.
You had just enough scrambled eggs and crescent rolls to feed your kids before school. So you hid in the pantry and ate cookies for breakfast. These are the "sacrifices" you make for your children.
You thought challenging your six year old to count to a thousand on a long car ride would be a good exercise to keep him occupied. What you failed to consider was that you would have to listen to him count to a thousand. Out loud.
One of the ways your three year old has stepped it up in the chore department is by racing you to pick out her own clothes for school...which usually ends up with an ensemble like this:
Being a big fan of ponytails, it makes you sad that the only random times your three year old will willingly let you pull her hair back completely is when she's doing a puzzle or eating breakfast. Your kids are nothing if not quirky.


Your camera has become like an extension of your arm because you never know when you might snap some of your favorite shots ever. (It just might be when you turn the mower off in the middle of cutting the grass because they're playing with the water hose, and they're so stinking cute.)
Linking up today with...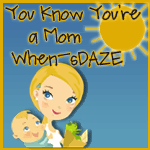 ******************************************************
Today marks my 52nd installment of
"Mom Things"
. While I apparently skipped a week or two without realizing, I have fulfilled the unspoken goal I made to myself of doing it for a year (whether consecutively or not). I have truly enjoyed sharing small glimpses (520+ small glimpses to be exact) into our wild and crazy life with those of you who can (or can't) relate. I hope that you have enjoyed a few along the way.
Thanks, as always, for reading!