Disclaimer: Once again, I can't speak for women on whole, but I'm a woman, and I know how I feel, so I'm speaking for myself. If you happen to agree, please let me know because you make me feel [slightly more] normal.
Most women I know who've endured the throes of pregnancy, delivery, and a rebounding postpartum body have at least one example of a time when someone said something hurtful to them about their size, status, and/or stature. It might have been something someone meant as a joke, like, "Whoa! You sure you don't have twins in there?!" (By the way, that's not funny.) It might have been a facial expression, like when someone asked you when you were due and you said, "I've got three more months", and then they give you the saucer eyes that suggested they thought you were going to deliver right there in the middle of the grocery store before you even made it to checkout - because - you know - you were that big.
For me, it happened
after
I delivered my firstborn. Bless his crying little heart. I'd had enough of his 24/7 outrage and opted to clear my head for an hour or so. I went to get a very much needed haircut. I sat in the chair, chatted with the stylist, and the subject of the baby came up.
Then she said it, "
When are you due?
"
Despite my raging postpartum hormones and the tears that welled up in my eyes, I calmly and quietly replied, "Ten days ago."
She was confused for a second, then she realized her error.
Then, she apologized profusely.
I made it to the car before I all-out sobbed from the apparent fact that I still looked oh-so-very pregnant.
In light of that oh-so-fun-to-remember trip to the stylist that happened nearly seven years ago (and yet remains a vivid memory of mine), I've come up with a few suggestions for those of you who feel compelled to say such things to women, pregnant or not.
Jennie's Guide to Not Offending a Woman with Respect to her Potentially Pregnant Body
1. Never, ever, ever ask a woman if she's pregnant.
You can ask her husband privately (knowing you run the risk of him mentioning it to her later which won't be good for either of you). You can ask her friends. You can ask everyone on earth. But DO NOT ask her. Even if she weighs 85 pounds and looks like she literally has a basketball shoved underneath her shirt. This is not a mistake you want to make. It's a question you'll forget that you asked 10 seconds later, but a question she won't forget being asked for 10 years (if you're lucky).
2. Never, ever, ever ask a woman "how many" babies she is carrying.
Again, I can't speak for everyone else, but I'm a big gainer when I'm pregnant. The least I've gained in three pregnancies was 26 pounds and I worked oh-so-very hard at it. The thing is, I still looked like I had gained about 62 pounds. I looked and felt like a beached whale. While I'm sure it was fun for other people to speculate that there were surely sextuplets in there, it wasn't fun for the beached whale. Beached whales have feelings too - violent ones. Do not tick off a beached whale.
3. Don't give backhanded compliments to pregnant women.
While I'm sure it was well-intentioned, your compliment about how good someone looks "this pregnancy" carries with it the insinuation "but you looked like a beached whale with the other ones". Pregnant women don't hear the compliment part. They just remember looking and feeling like a beached whale. And then there are more tears. You don't want to be the one who makes a pregnant woman cry.
4. Hands off.
Please don't touch pregnant bellies. In general. But especially don't do it if you're not sure whether they are indeed pregnant or not. Because then you run the risk of being that weirdo who touches non-pregnant bellies. Do you really want that reputation?
I will conclude this little tirade now, but not without saying that sometimes a woman might want to wear a cute, new empire-waisted peasant top to work on casual Friday without being point-blank asked if she's pregnant. Especially when said woman has been working out and was finally coming to terms with her post-three babies body. And especially when the shirt was so forgiving after a big meal at the Mexican joint. Dang it.
Guess "she" will be burning this shirt.
For kicks - here's a pregnant Jennie picture. (I felt the need to caption it so you won't mistake it for a beached whale.)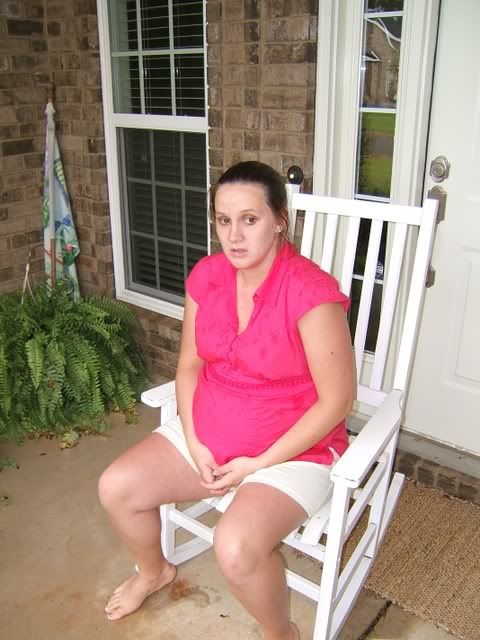 I believe the facial expression can best be summed up with, "I will punch you in the teeth if you comment on my size."
P.S. - I do apologize for the tone. I have had three very blessed pregnancies, deliveries, and beautiful babies. I recognize these all for the gifts that they were. I have worked very hard not to spiral out of control with my weight both during and following my pregnancies. It just really does hurt in the midst of that for someone to ask that question. Pregnancy does not offend me. Being asked if I'm pregnant...kind of does. Here's a promise, if I want you to know whether I'm pregnant or not, I will tell you.
For the record, I am not.
With that, I hope you all have an excellent weekend. See you on the flip side.