It has been a whopping five days since my last post, and I can feel my skin starting to crawl from the inactivity. Just kidding. My skin is starting to crawl because I haven't had a shower in a week. Just kidding. I'm just having a more scatter-brained than normal experience here lately and I can't seem to find the energy, motivation, or wherewithal to do anything on top of that which is absolutely necessary. Just kidding? (Unfortunately no. That last part is true.)
[Because I'm random, if you want some seriously funny "Just kiddings" check out Kristen Wiig as Judy Grimes on SNL.
Here's a link
, but there's no telling how long the video will be active.]
So what was I talking about again? See. I'm a mess these days (or maybe I always have been and I'm just now noticing it).
I've
talked about successfully forcing myself to "let go"
of some things. You may remember these pictures of the laundry room. (Warning: The following may be completely overwhelming to view.)
Of course, it's hard to truly determine what constitutes success when it comes to letting go. The "problem" is that not one day after patting myself on the back for achieving "let go" status, I set up the ironing board for a marathon ironing session that got rid of all the clothes hanging on the doorknobs and the molding, and even a few from the overhead rack above the washing machine. Because it
was
making my skin crawl. I couldn't sleep thinking about all of those clothes hanging in there waiting to be ironed. I couldn't bear to do any more laundry because I knew it would just end up being added to the hanging purgatory of un-ironed clothing. Needless to say, the hamper was running over. There were piles of dirty laundry on the bathroom floor. And all I was doing was averting my eyes.
There has to be some kind of balance between this so-called letting go and my typical reality.
My reality and true problem is this - I have an All or Nothing mentality. If I can't do it all and do it perfectly, I don't do it (nor do I want to).
I was driving in my car the other day, and I heard a commercial on the radio about this very topic. I have no idea if it was some kind of public service announcement or if they were actually trying to sell some sort of product, but the gist was this:
Being perfect doesn't work. Looking at life like this means there are only two options: perfection or failure. And since no one is perfect (and never will be), this means that those of us who strive for perfection end up feeling like failures.
All of the time.
I am sorry, but that is just not acceptable. I don't want to live like that [anymore].
I have always had the desire to do things well. And if I can't do them well, I not-so-subtly opt out of the activity. The list of these things-at-which-I-don't-succeed has grown over the years. There's skiing, drawing, conversing casually on the phone, playing basketball, understanding time zones/time changes, almost any kind of right-brained activity, and (most regrettably) cooking.
I'd like to say that I've had some sort of big epiphany, but it's not so much that as I just don't want to live life feeling like a constant failure anymore. That sounds a lot more dramatic than it really is. I'm not down in the dumps or anything. But I am relentlessly hard on myself, and I'm giving myself permission to screw up from time to time. From here on out. I've accepted that I will have failures, but fear of them is no way to go through life. Failure is part of growth. And by eliminating things from my life, I am robbing myself of potential joy.
Like learning and loving the seemingly right-brained art (that is also a left-brained science) of photography:
Like coming in 70th in a 5K:
Like even attempting to use a sewing machine to make a present: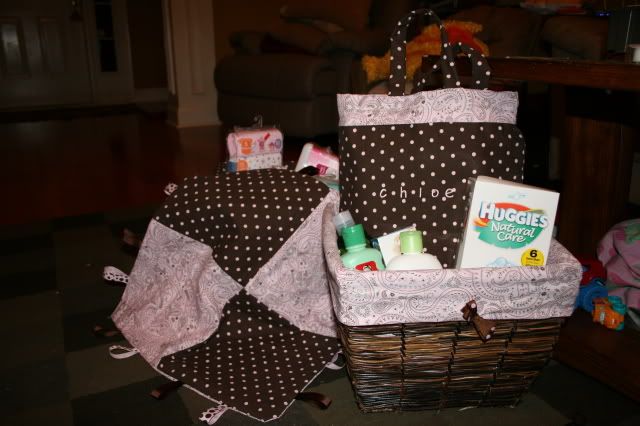 There's untapped potential in there. I might not be the next
David Muench
,
Kara Goucher
, or
Amy Coe
, but how can I know unless I give it the ol' college try? I'm nothing more than a quitter if I tell myself "I can't." And that's not the example I want to set for my kids. I can. I will. And at the very least, I will try.
Next on the list of things-I'm-not-automatically-good-at-so-I-automatically-hate is cooking.
I'm a terrible cook....or am I? Maybe I just haven't spent enough time up to my elbows in cooking oil, vegetable peels, and spices. Maybe I made one bad thing when Sam and I first got married (peanut butter chicken in the crockpot - BLECH!), so I wrote off cooking...for the
rest of my life
, apparently.
I am eternally grateful for a husband who cooks (and cooks very well I might add), but traditional gender roles aside, I
want
to be able to cook. I don't want to dread this necessary part of life because I've told myself I'm not good.
Geez, when I put it down in words it sounds ridiculous.
This is where you come in, readers. Help me become a better person and a better cook. What are your sure-fire, go-to, not-too-difficult-for-a-novice recipes? I need encouragement...and a starting point. I'm counting on you!
Thanks, as always, for reading and letting me drone on and on about my own personal brand of crazy. I hope
one
of you can relate. And if so, I'm letting you off the hook. We're in this together. Here's to putting aside self-doubt, having new experiences, and discovering new passions! There's so much to this life - let's not miss out!