Turns out, real time blogging would have been better. Now that I'm home, life seems to get in the way of sitting down and typing trip memories for posterity. I may be delayed, but I won't be deterred. I just need to be more diligent so I can get on to the
other
things I want to write about as well. It's a unique problem that I haven't had in a while - more to write about than I have time to write. So long writer's block!
On the fourth day of our trip, we woke up as early as possible after a full day in Vermont the day before, knowing our adventures in the White Mountain National Forest of New Hampshire would make for a long adventure, and we
so
wanted to make it to Mt. Washington on the way to our next hotel stop in Maine that evening.
We loaded up the car and the first thing we noticed was that the sky was a dreary shade of gray. The clouds were low. It was foggy, drizzly, and the wind was whipping. As we drove from Lebanon, New Hampshire to the southernmost part of Franconia Notch we were feeling slightly discouraged by the weather and hoping things would clear up as the day progressed. A quick stop at the park headquarters and a chat with a park ranger later, and we were advised to skip Mount Washington altogether. The reasons being that the visability that day was terrible, and that it was significantly out of our way from where we were starting to where we were going (Auburn, Maine).
We left, shrugged, and decided to stick to the original plan, which was to drive up Franconia Notch, a road that traverses the White Mountains, similar to the Middlebury Gap in Vermont that we drove the day prior, only this was an interstate with exits to the natural attractions. We visited as many as we could -
The Basin - a natural "pothole" created by rushing water carving a hole into solid granite. Our sights were even more spectacular than usual thanks to the deluge of rain the night before. The amount of water rushing through was incredible.
Don't let the Angry Birds shirts distract you from the beauty that surrounded us. (wink, wink)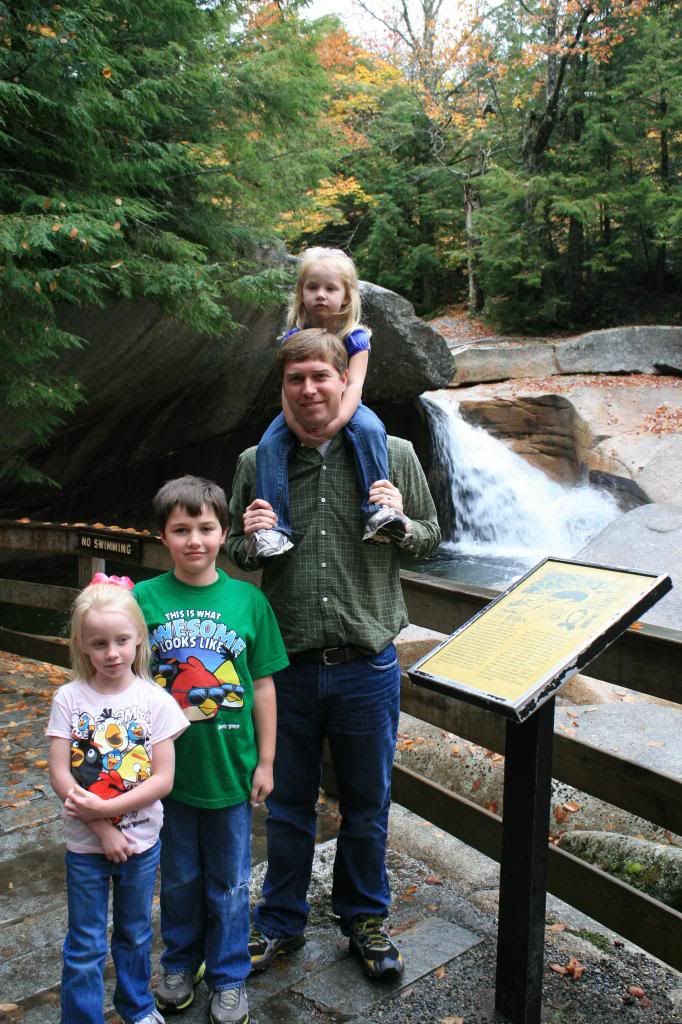 Boise Rock - a huge boulder with a pretty cool history - In a nutshell, Thomas Boise took shelter under it in a blizzard in the 1800s after getting stranded and realizing he would not make it to his destination before nightfall. He had the foresight to slaughter his horse, wrap himself in the skin, and when a search party came to find him the next morning, the found the carcass frozen solid around him - but he was alive! Pretty amazing stuff!
The Aerial Tramway to the top of Cannon Mountain, from which visibility was practically zero, and we could see almost nothing, but hey, it was still cool, even if only to see the stunted pine trees at the tops. We did the little rim hike around the top and it smelled like Christmas. Man, I love some evergreen scents. While we were on the tram, I had a fun conversation with the operator about winters. She said last year they'd had the least amount of snow ever, which was terrible for skiing - especially after coming off the best winter they'd ever had (aka Snowmageddon 2011). What was interesting is that when I asked, "Aren't you expecting a bad winter this year?" (the almanac predicts a harsh winter) she replied, "No. We're expecting a
good
one." I guess it's all about perspective. Only on a mountain where people ski would 4 feet of snow be considered "good."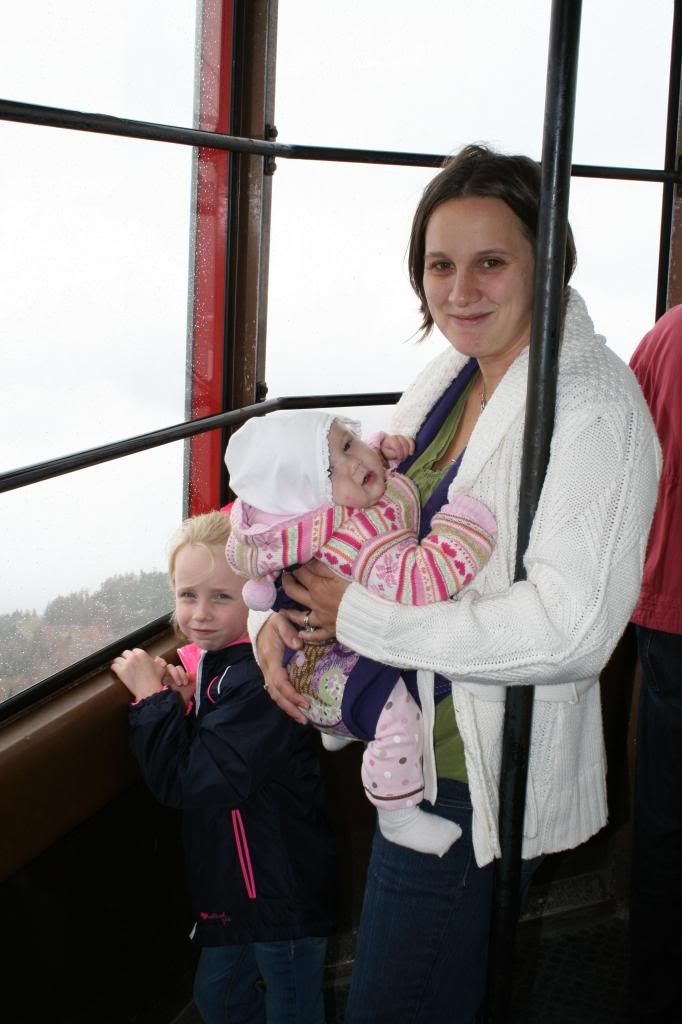 And, my personal favorite, Flume Gorge...
(Whether you believe it's millions of years old...or not...The Flume was by far my favorite stop, perhaps, on the whole trip.)
In layman's terms, it's a stories-high crevice, carved out by massive amounts of water. My pictures can't possibly do it justice, but I truly believe it was made even more spectacular because of the amount of water passing through due to rain on the day we visited.
I also love this picture because it shows how uninhibited our eldest daughter is. "Slippery when wet? Who cares? I got this. See you slowpokes later!"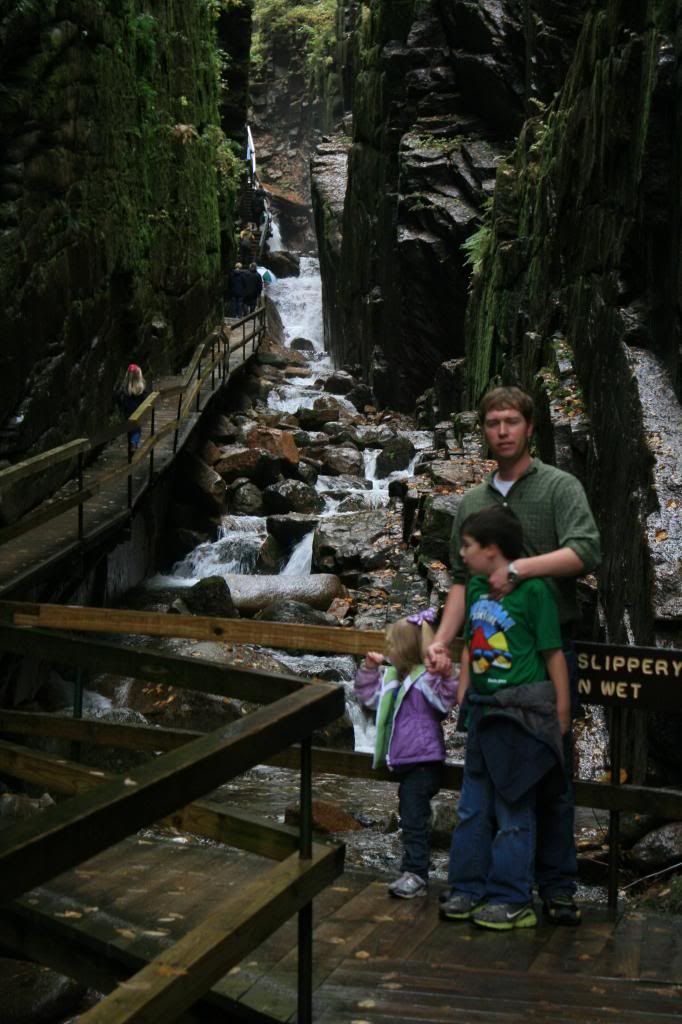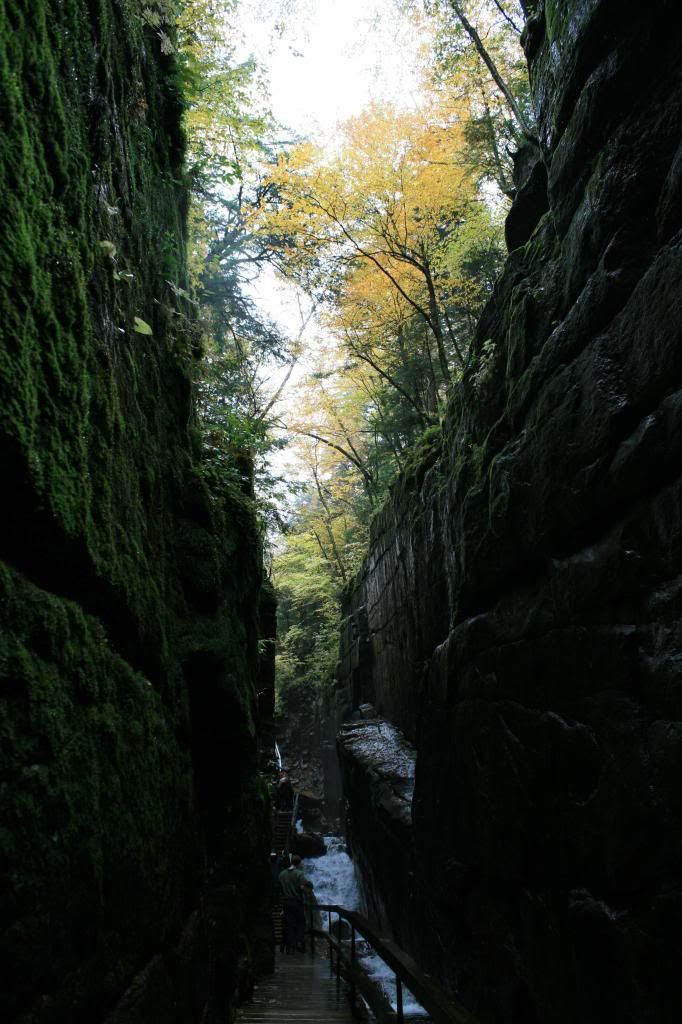 It really felt like something straight out of the movie, Jurassic Park.
God bless these little kids. They did some serious hiking that day. And I didn't hear a single complaint.
We searched and searched for a moose on the entire trip. We never did find one. Good thing we got
this
picture.
We left Flume Gorge after a picnic/snack lunch in our van in the drizzling rain. Like I said, the weather was less than optimal.
Did that stop us from driving to Mount Washington? No. We took the scenic route from Franconia Notch across Pinkham Notch via New Hampshire Route 16, argued to be the most beautiful road in the northeast. I think "they" may be right. The colors were brilliant. The oranges, yellows, and reds on the trees made them look like they were positively afire. What we didn't know is that this little route would take us through the shopping hub of Conway, New Hampshire, with no less than 10,000 stop lights. Give or take. We got to Mount Washington four minutes after they closed...at 4:34pm. We asked the gatekeeper for a favor. He denied it. If we'd have gotten there three days prior, the gates would have been open until 5pm. Alas, we didn't. So we couldn't. There's a little more detail about that particular story
in this post
.
So, on to Maine we traveled. We got over the disappointment relatively quickly. And all things considered, I think it was pretty awesome that we skipped not one item on the list of all possible things to do on the itinerary up to Mount Washington. Sam is a rockstar at trip planning. (Have I mentioned that once or twenty times yet?) We arrived in Auburn, Maine after dark that evening, and to our delight our hotel sat in between a TGIFridays, Buffalo Wild Wings, and I-don't-even-remember-what-other restaurants. It was so nice to be back in the middle of
things.
Turns out, I'm a metropolitan girl through-and-through when it comes to conveniences and dining out. We ate at Friday's that evening, enjoyed a dip in the pool, and rested up for another full day ahead.
Seeing as how we returned from this trip a month ago, I bet you weren't expecting
this
post on
this
day after Election Day. You see, homeschooling (for me at least) is not conducive to blogging. I'm choosing to view this as a good thing, because it affords me the luxury of time to sit on my thoughts before I spew them out. Believe me. This
is
a good thing. I'm not without passion. Don't worry. That
won't
happen.
Next up, the beautiful state of Maine!