We left our hotel, again, in Auburn, Maine with the destination of Boston in mind. We would make a lot of little stops that day along the coast, the first of which was Kennebunkport. This, of course, was put on the map as the home of the Summer White House for George H.W. Bush. It was more recently in the news (just days after we visited) due to a particular Zumba teacher sex scandal. We were more interested in the summer home (duh). Ben was most impressed by the secret service protection. Sam and I were most amused by the Kennebunkport Romney/Ryan HQ which shared a building with a Ben & Jerry's Ice Cream Shop. Ironic much? There's not much to do in this sleepy town, once you've driven by the Bush Compound, and so, we moved right along.
Next stop - York Beach, Maine. It was here that we would enjoy a lunch of Lobster Rolls in a seafood market where the locals talked politics and where we were treated to unsolicited homeschooling encouragement. When you walk into a dining establishment in the middle of the day in October with four kids, people tend to notice you...even more than usual. Maybe it was our lack of a Maine accent, or maybe it was obvious, given the fact that we were, in fact, there in the middle of the day in October, but one of the locals asked us if we were on some sort of Columbus Day holiday. We told him we were on a homeschool field trip. And he paused for a minute and said, "Oh!? We
love
homeschoolers!" It was completely unexpected and totally appreciated, especially after an unfounded funk I'd found myself in for the few days prior.
If you ever happen to be in York Beach looking for a lobster roll, we highly recommend the Shore Road Restaurant. $8.99 lobster rolls that taste like pure butter? Yes, please. Sarah was most intrigued by the tanks of live lobsters inside. Ben & Abby liked the gigantic acorns outside. Kids...they're so weird.
Our other adventures in York Beach were a trip to The Goldenrod for some Kisses. We got to watch saltwater taffy being made - the old-fashioned, but automated way. Here we are, holding our 1lb box of individually selected flavors. Strawberry and blueberry were my favorites. Sam liked peanut butter.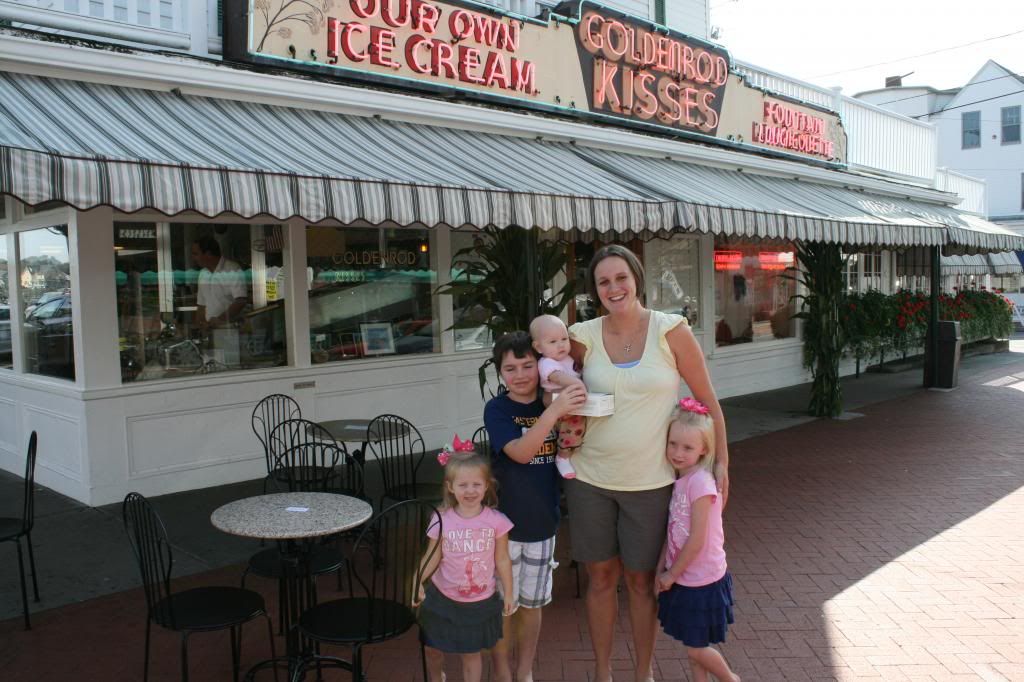 The beaches in Maine are not exactly like we're used to. I mentioned in my last post that there were pine trees on the beach in Acadia National Park. At York Beach, the entire coast was lined with rocks - no sand. It was here we checked out the Cape Neddick Lighthouse. It's an amazingly picturesque lighthouse. As you stand on the shore looking across to the island that seems so close, you look down and see the waves crashing on the rocks and you realize it's much farther than it looks, especially by row boat, which is how the original lighthouse operators had to get over there. Eventually, they constructed a cable with a hanging basket from shore to shore, similar to the sky trams you ride in at amusement parks, but it's not fit for human travel. It's how they got provisions to and from the mainland. I liked the story about how in a storm, the wife of the lighthouse operator sent her child over the crashing waves so he could go to school. After that, the town prohibited operators from having school-aged children. From the descriptions, the house on the island is very nice, but lacks indoor plumbing and did even through the last operator living there in the 1970's. The light is now automated, which sparked significant controversy in this little coastal town. It's funny the things people get worked up about.
That was our last stop in Maine. We headed south on I-95 and stopped in Portsmouth, New Hampshire at a living history museum called Strawbery Banke. It was, essentially, Colonial Williamsburg without the crowds and with even more hands-on fun and personal attention from the play-actors.
We got to play various victorian games - like croquet (No, Abby! Don't throw that ball!)
This "thingie where you use sticks to throw and catch a ring" (I think that's the official name)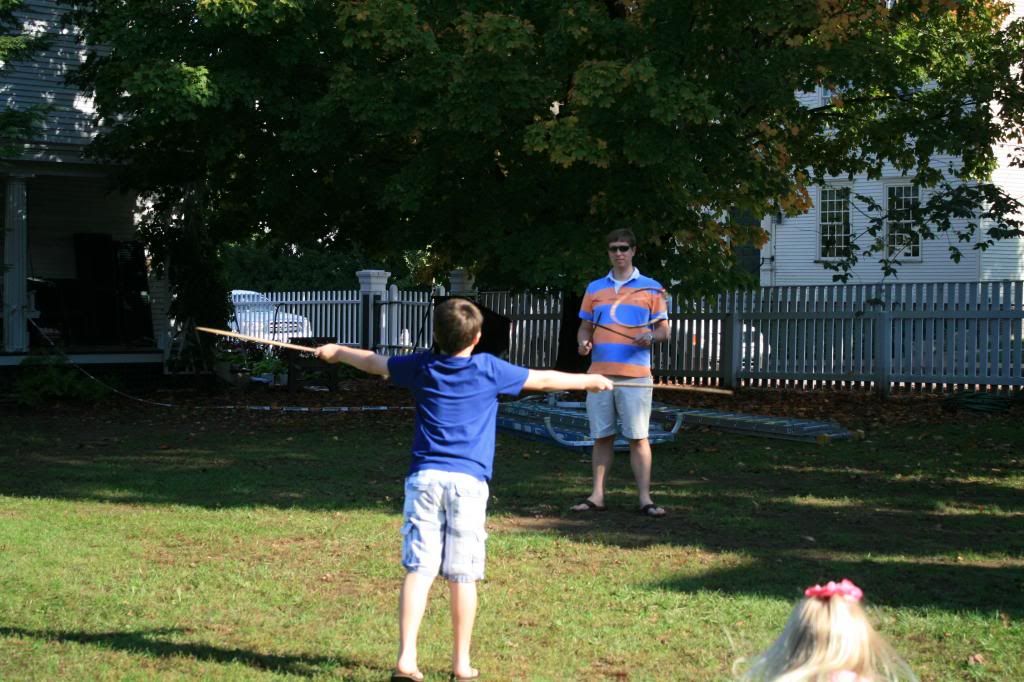 And the game where you roll a ring along the ground with a stick (Abby was hilariously good at this, really).
I particularly loved this quote one the Victorian Games placard -
It so reminds me of my girls who lament when I mow over our dandelion-covered backyard.
In each of the buildings, there was either a tour guide or an actor/actress ready to tell you a story and answer your questions. They were all knowledgeable and helpful, but we enjoyed the home of a Ukranian Jewish woman set in the 1950's the best. She was kind enough to let the kids try on some of the clothes upstairs and let each of them take a try on "her daughter's" pogo stick out in the road.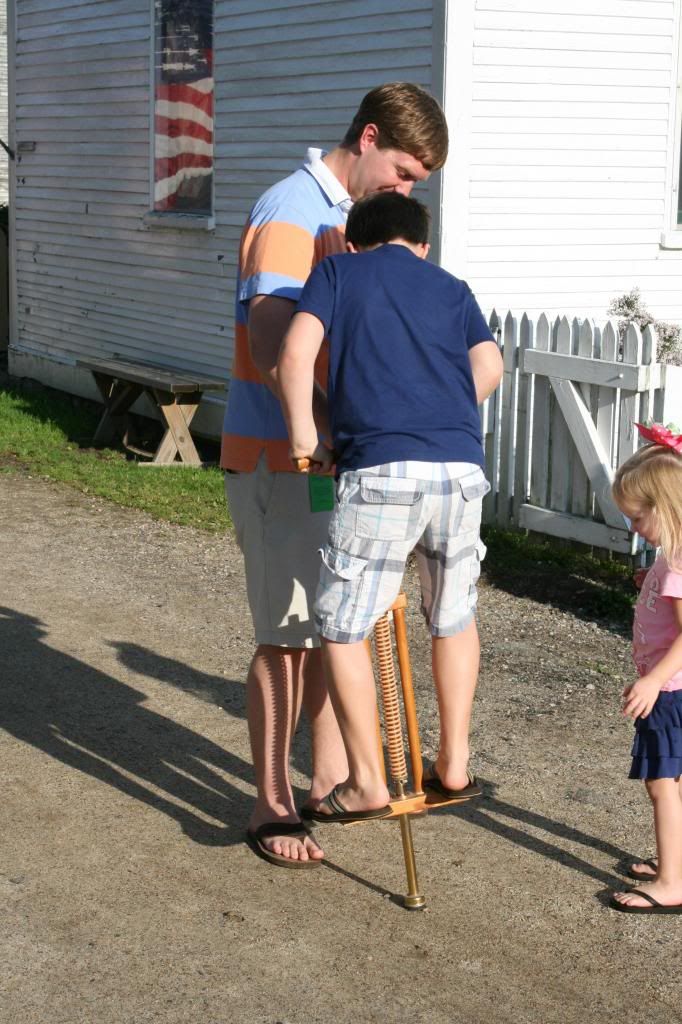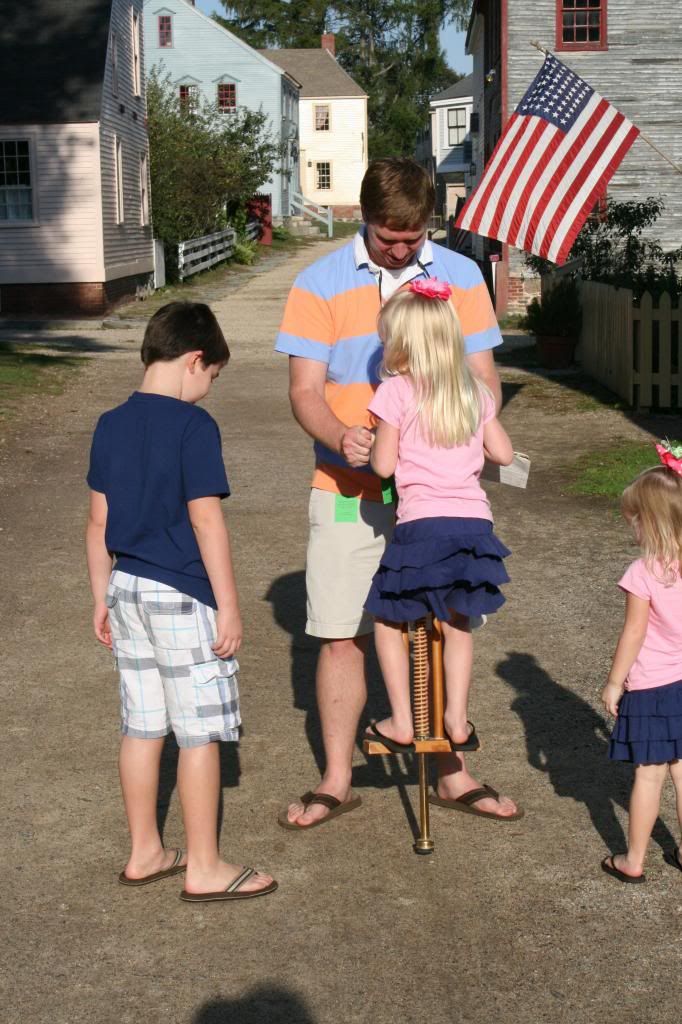 Yeah...I have no idea what these girls are doing here...
We shut the place down with some hula-hooping and a potty-break, and we loaded up the van for our final destination of the day...Boston, Massachusetts. We arrived at our hotel near dinner time, but since it was a Friday evening, we were less than enthused about finding a sit-down restaurant. Since it had been at least two weeks since any of us had eaten at Chick-Fil-A, we opted for the food court at the Burlington Mall. Sweet tea tastes even better when you've been without it for that long. (True story.)
We would spend the next three nights and two days in the historic city of Boston. But more on
that
next time...